Today in Shanghai MWC 2017, Qualcomm made a number of announcement in which it also announced the 14mn Snapdragon 450 chipset and the under screen fingerprint technology.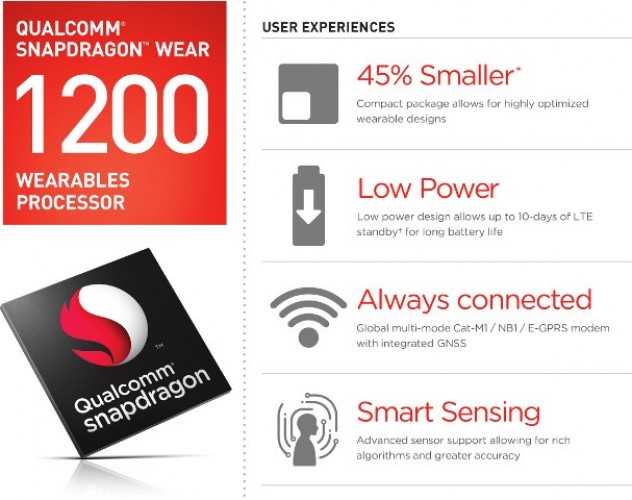 It also announced the Snapdragon Wear 1200 chipset. This chipset is available in low-end wearable and single purpose loT devices.
The evolution of the Snapdragon Wear 1200 has been made from the Wear 1100. The Wear 1200 is half the size of the Wear 1100 and it also supports LTE Cat M1 and NB1 technologies.
These technologies get connected to an LTE network with minimal power consumption allowed by the ultra low power electronics. The data consumption is also insignificant as the categories max out data speed 10 to 50 Kbps.
The Snapdragon Wear 1200 includes GLONASS and Galileo as well as multiple tracking. Features like Bluetooth, Wi-Fi and Qualcomm's rapid charging technology might be included in some devices.
The SoC can be seen in some basic fitness trackers, but it couldn't reach an Android device. Due to its size and enhanced connectivity, it can be used by loT devices manufacturers.With a long battery life, this feature also supports algorithm and greater accuracy.The chipset is already available for shipping.