Just like Canva, Desygner is your go-to solution to create & manage visual content. The platform offers numerous tools to create and design images for your needs, be it business or personal. You can choose a professionally designed template to get started with your project. Also, you can start from scratch, add a blank template, and set your own dimensions and tools. The best part is all of this is free! Yes, you read it right. Although there's always an option to upgrade to Desygner Pro+, Business, or Enterprise to access premium tools and content.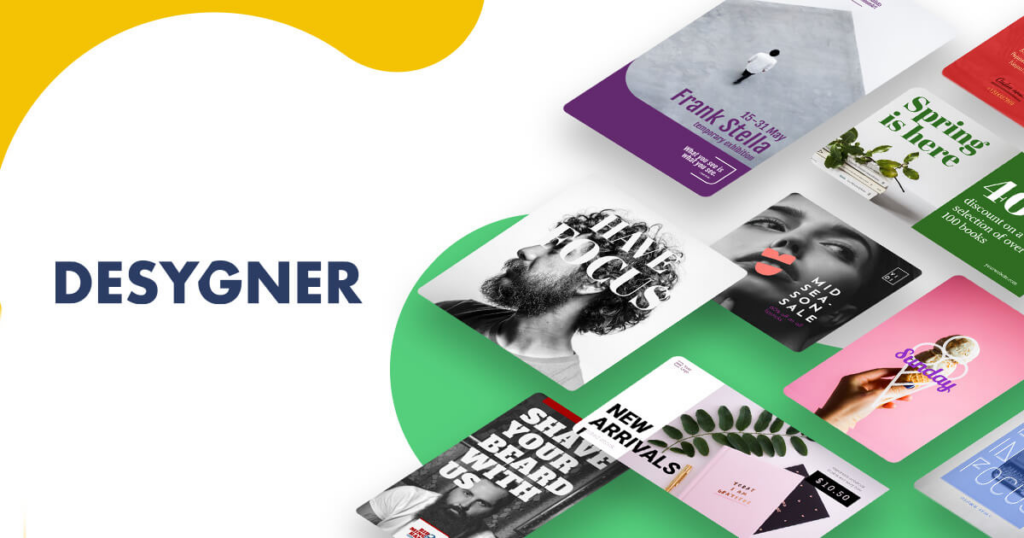 With the Desygner editor, you can choose from thousands of templates, and search for images and icons. In addition, you can add other elements as well, such as imported images, banners, fonts, colors, elements, and more. In the end, it allows you to print/ share/ save the file in PDF, JPEG, or PNG format. On top, you can also resize your made-up design anytime, even after completion.
Desygner Products
The design tool is available for PC, Mac, Android, and iOS. As mentioned, you can avail all these amazing features for free. However, Needless to say, paid members will always get an edge over others. In case you are using Desygner for work or business purposes, the pro+ or business plan is the best. You can share Pro+ with up to 5 team members for free. Here are some more features that are worth paying for.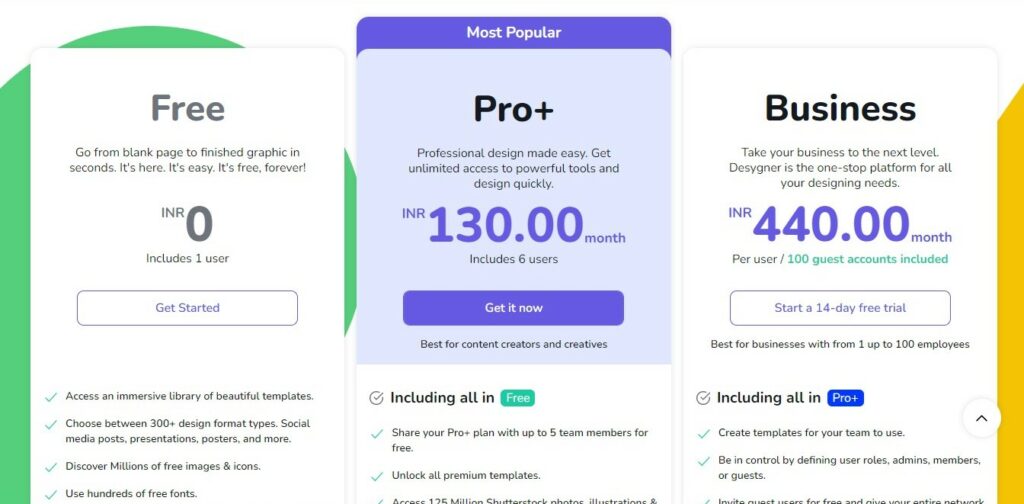 Extra Features for Paid Members
The Pro+ Plan: 
Share your Pro+ plan with up to 5 team members for free.

Unlock all premium templates.

Access 125 Million Shutterstock photos, illustrations & videos.

Enjoy UNLIMITED Asset Storage & Assets Library.

Resize UNLIMITED designs automatically with one click.

Keep track of every change using design version history and rollback.

Create UNLIMITED animations and make any design come alive, instantly.

Remove backgrounds from images within seconds and get perfect results every time.

Schedule your posts across multiple social media networks from your phone all in one place.

Import UNLIMITED PDF files and make your documents fully editable.
While the Pro version is immaculate, the standard version is great too. It provides you with a diverse library of designs, images, fonts, posters, icons, and more. However, the editing of PDF files is limited to 10. Nevertheless, let's take a closer look at the Desygner app.
The Business Plan:
Desygner Business is a unique product and you won't find a similar tool. Desygner Business is more than just an easy design tool, it is brand management too. Desygner Business allows you to have like your own Desygner platform where you can have & organize all your digital content or material as brand templates in different collections. You can share your branded templates with your team or company members and they will be able to use them without changing the original one. Also manage roles, groups & notifications. 
Desygner Review
Editor
The editor window of the visual content platform is the most used interface and acts as a window to our design needs. All the tools and features are part of this window. Better the Editor of content creation and management platform better will be the graphics. Following the above saying, Desygner offers a useful yet tidy editor to maximize productivity. It comes with several advanced features which in fact are based on and save a lot of time that we usually waste while using primitive CPU-intensive software. 
In Editor AI-Based Features:
Remove Image Background

– The enhanced AI system automatically removes the background from the image and makes the object only visible. Here's a quick example of the same showing before removing the background and after removing the background.
Automation – It is another useful & unique feature that automatically replaces the placeholder text with the text you enter in the specific fields. It is a time-savvy feature that must be quite productive for users. Here's a simple example.
Apart from the AI-enhanced features, there are several other small nifty features that may impact the daily usage of the user. 
I'm talking about Color Pallete – Where users can add colour presets for a project and can later choose from those colors for easy accessibility.

Other Tools – The users can add some drawings, clip art, shapes, frames, or any other art. There is a great collection of these images that the user can use. Moreover, several Text options are present as we do on Adobe Photoshop and other heavy graphics software. As in Photoshop, the work is done with layers.
Animation and Video – There's support for video and animation creation. The users can easily add animations and pages to a single graphic file. It offers the ability to export it in MP4 or GIF format. 
User Interface
The Desygner UI is quite lively and bright. You can go through the templates, images, text, icons, logos, and more from the left side of the screen. Each set of elements will show an additional set of toolbars to serve your requirement. Plus, there are more options on the top as well, including drawing, shape, frame, text, and table.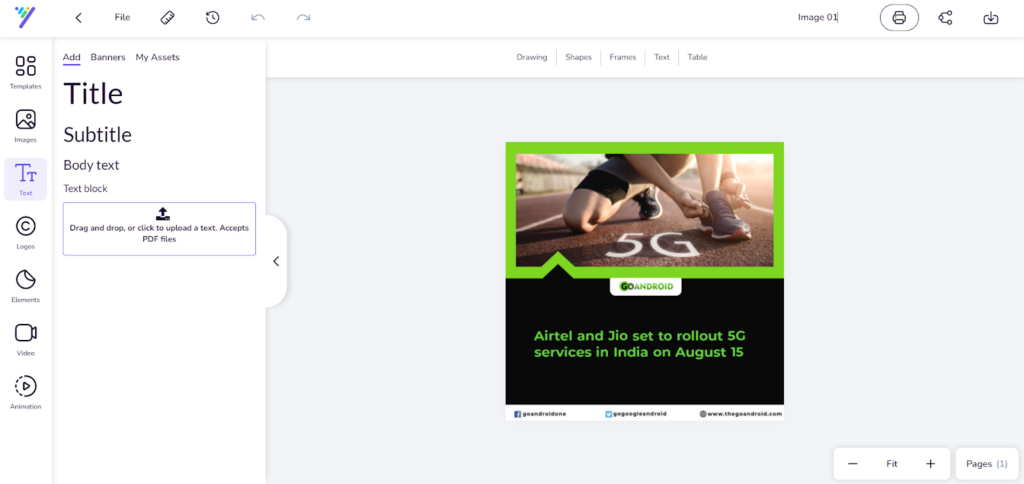 Ready to Edit Templates
The searching mechanism is neater in Desygner as it allows choosing a pre-designed template across different categories. This includes social media posts, banner adverts, blogs & websites, marketing materials, and more. With the help of pre-designed tool elements, you can transform any ordinary pictures into high-quality posters, or even create your own masterpiece. The best part is that it's super easy to use, even for beginners.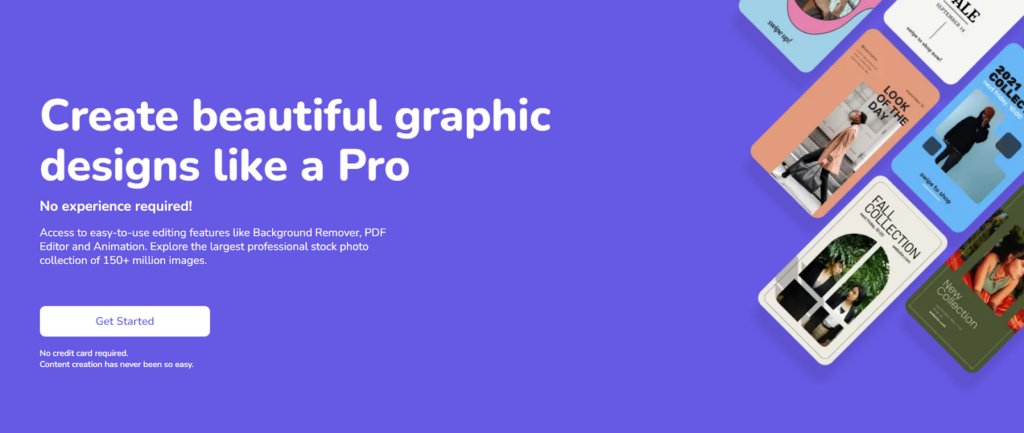 Features + Tools
Let's compare Canva and Desygner in this aspect as they both work on the same platform.
Compared to Canva, Desygner provides more tools and templates even to the non-subscribers.
Canva emphasizes natural backgrounds, like landscapes and photographs. Whereas, Desygner offers a whole new variety of abstract images that can be used for different purposes.
Unlike that on Canva, most elements on Desygner are free and again, easy to search.
You can find more stock images, videos, and music in Desygner than in Canva.

You can use Desygner to create web banners, blog headers, prints, posters, and marketing materials.
Desygner provides some options that are not available in Canva. This includes background remover, drawing, table, PDF editor, and resize designs.
Nonetheless, there are some common features as well, such as multiple export options, icons, animations, and more.

While Canva provides a list of font combinations, Desygner has different sections listed as a title, subtitle, body text, and text block.
Changing background on Desygner is super easy! All you have to do is click on the image. In fact, you can also remove the stage, which you can not do in Canva.
Export Options
The image/ file size in Canva may differ after downloading. On the other hand, you get the exact file with Desygner in the required format. Besides, it supports Google Drive, Dropbox, and Facebook to help you edit designs without leaving the app. After completing your design, you can save print/ share/ download the file in PDF, JPEG, or PNG format.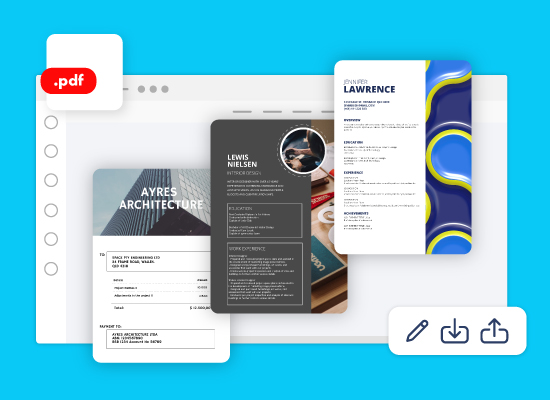 PDF Editing
Unlike most PDF editors, it will not only allow annotations and text editing but, completely customize your file. That means you can completely change the look of your PDF file or even the file. All the elements present for creating posters and pictures are available to edit PDF as well. You can add images, logos, text, and other elements to get your desired results.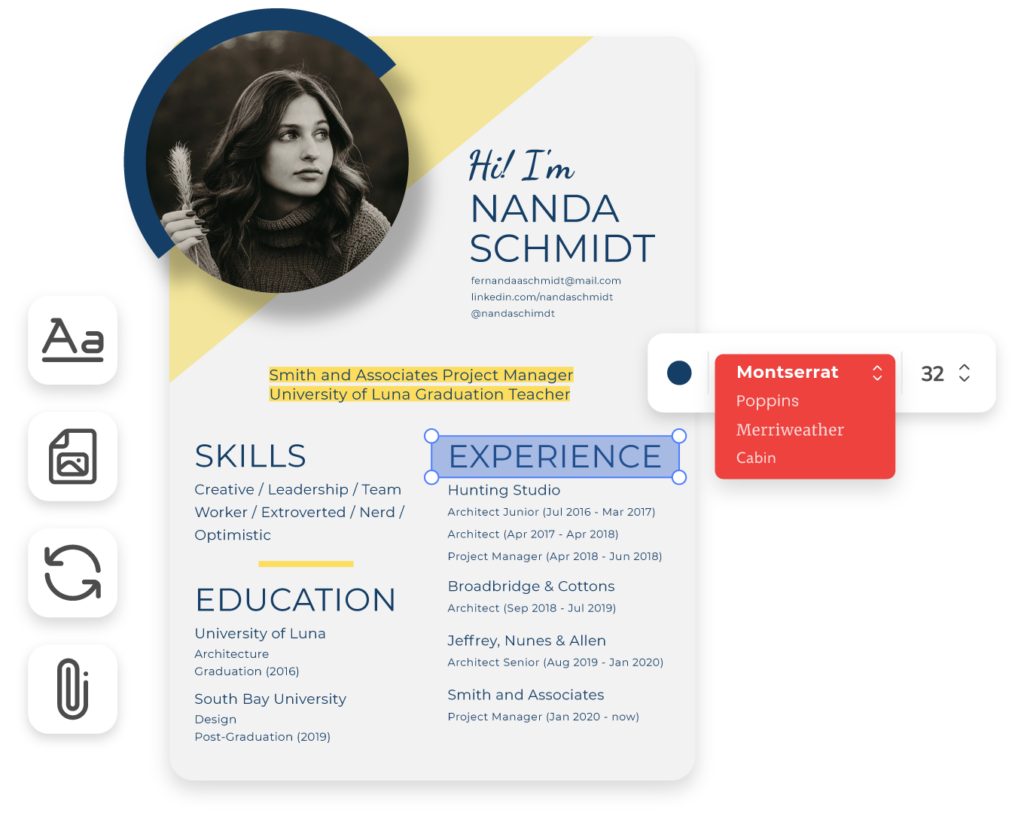 Pricing
As for the paid plans, Canva Pro costs $12.99 USD / month for one person and Desygner $9.99 / USD month for 5 people! Although both Canva and Desygner allow you to take a free trial. You can try Desygner Pro+ for free for 14 days without a credit card.
Also, there's another plan known as Canva Enterprise that costs $30 per month. On the other side, Desygner Business is $19.95/ month.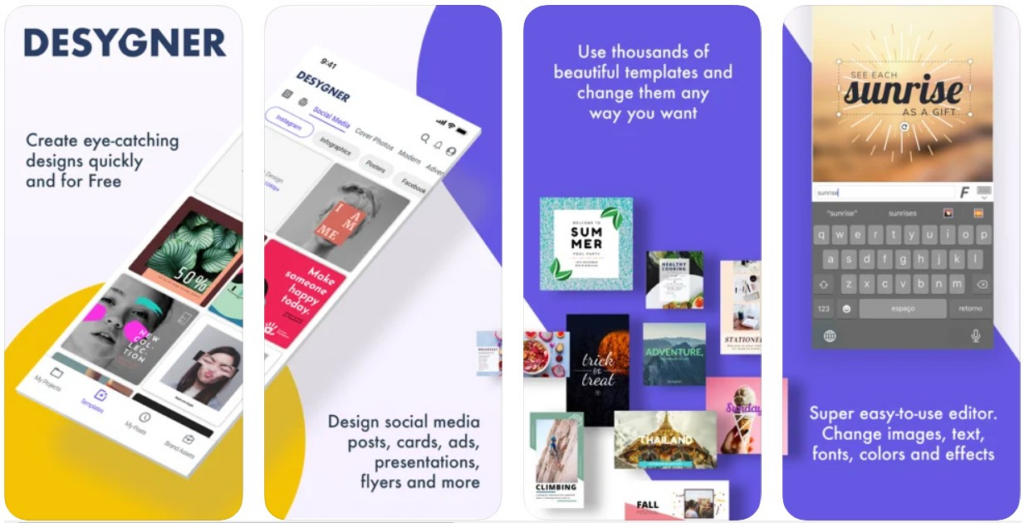 Support and Documentation:  There's an ample amount of support documentation that you can use for an easy understanding of the usage. However, if there's any glitch or issue you can ping support anytime and expect an answer within 24 hours. In case, you're using the Enterprise version then you can 24/7 round-the-clock support in case of any emergency.
There's also a provision for hiring a graphic designer if you need help with designs. Overall, it is a full-proof service where every customer gets attended.
Final Verdict
In a nutshell, both Canva and Desygner are leading graphic design tools. However, if you are looking for a cost-free platform with maximum editing tools, Desygner is the right choice for you! Furthermore, it is best for beginner designers who are looking for a free and easy program instead of hefty, expensive software that requires training. Regardless, do let us know your opinion in the comments section below.
Desygner FAQs
Is Designer free to use?
Yes, most of the Desygner features are free to use. But, if you're advanced user and want to fully rely on Desygner then we suggest you go for Pro+ or Enterprise plan.
What is Desygner used for?
It is an online utility to design graphics like Canva and Adobe Express. It offers several tools and functions to design what you like.
Is Desygner better than Canva?
Yes, It is worth using and costs less than Canva. It is easy to use and offers plenty of readymade templates.