Android 11 beta has been kickstarted without much buzz and fanfare. Apart from the Google Pixels, devices of other OEMs under beta program have started receiving the same with the Vivo NEX 3S being the latest. But these devices receiving Android 11 beta accounts to only a few portion of the Android spectrum. Rest of the Android owners can have a taste of the Android 11 by applying at least the stock Android 11 wallpapers. No pun intended.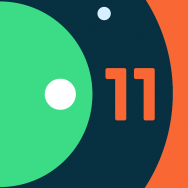 Must See: Vivo NEX 3S gets hold of Android 11 Beta Update
We've got hold of some of the stock wallpapers forked from Android 11 beta builds of Pixel devices. They're simple at the best blending perfectly with the minimalistic, materialistic approach of modern smartphone UI.
We're not testing your patience and here goes the link for the Android 11 wallpapers.
Download
Android 11 Wallapers: Download
Have a preview of the wallpapers below.
Apply and allure them until Android 11 officially rolls out on your device. Given the current situation of the world, the stable Android 11 ought to come late than anticipated. Well, for the time let's be optimistic and hope for the best.
As of the Android 11 beta, it is available for Pixel 2, 3, 4, OnePlus 8 Series, OPPO Find X2 and Vivo Nex 3S. More devices should join the fleet later in the beta phases. POCO F2 Pro, Xiaomi Mi 10 Series and Realme X50 Pro to name some.
Tried the wallpapers? Do let us know what you think of the Android 11 beta and the wallpapers down in the comments.
Also Read: Android 11 Beta 1 with improved media controls and privacy available for Pixel phones