Is your smartphone old and not eligible to taste the goodness of Android 12 officially? If yes, then thanks to Android as it is open-source software. Installing LineageOS 19 ROM is a way to bring grace back to your aged phone. But then again, the Android 12-based custom ROM supports a few devices. However, on the bright side, the team keeps on extending support for more smartphones.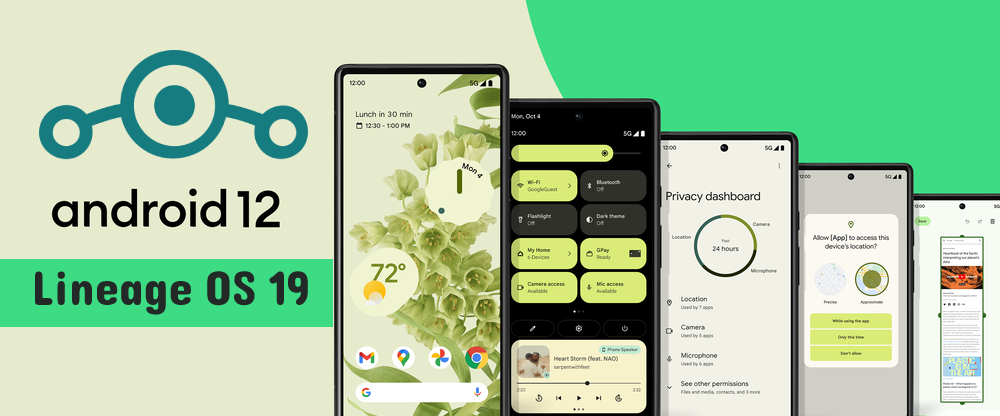 Most of the eligible devices have already received the Android 12 OS. However, the journey for some older devices ended with Android 11. Here is a list of such smartphones that can get the new OS update via LineageOS 19. However, to flash the ROM, you have to unlock your device's bootloader and install a custom recovery like TWRP.
LineageOS 19 compatible smartphones
Updated: October 7, 2022
Motorola Edge 30
Motorola Edge 20 Pro
Xiaomi Mi 8 Pro
Xiaomi Mi 8 Explorer Edition
Xiaomi Mi Mix 2S
Updated: September 13, 2022
Xiaomi Mi 8 SE
Xiaomi Mi 9 Lite/Mi CC 9
Xiaomi Mi 9 SE
Xiaomi Redmi Note 9S/Note 9 Pro (curtana)
Redmi Note 9 Pro (joyeuse)
Redmi Note 9 Pro Max (excalibur)
Poco M2 Pro (gram)
Previous Story…
Asus ZenFone 5Z
Asus ZenFone 8
Asus ZenFone Max Pro M1
Asus ZenFone Max Pro M2
Google Pixel 2/ Pixel 2 XL
Google Pixel 6/ Pixel 6 Pro
Lenovo Z6 Pro
LG G8 ThinQ
Motorola Edge
Moto G 2015
Moto G3 Turbo
Moto G5S
Moto G9 Plus
Moto Z3 Play
Moto G 5G/ Moto G 5G Plus
Nokia 6.1/ 6.1 Plus
Nokia 7 Plus
Nokia 7.1
Nokia 8
Nokia 8.1
OnePlus 5/ 5T
OnePlus 6/ 6T
OnePlus 7/ 7 Pro/ 7T/ 7T Pro
OnePlus 8/ 8 Pro/ 8T
OnePlus 9R
OnePlus Nord
Raspberry Pi 4 B,
Raspberry Pi 400
Razer Phone 2
Realme 2 Pro
Realme 5 Pro
Realme 6/ 6i /6s/ 6 Pro
Realme C3
Realme X2 Pro
Realme XT
Samsung Galaxy A10
Samsung Galaxy A20/ A20e
Samsung Galaxy A21s
Samsung Galaxy A30
Samsung Galaxy A40
Samsung Galaxy A52 4G
Samsung Galaxy A72
Samsung Galaxy Note 8
Samsung Galaxy Note 8.0 Tablet
Samsung Galaxy Note 10/ 10 Plus/ 10 Plus 5G
Samsung Galaxy Note 10.1 Tablet
Samsung Galaxy S7/ S7 Edge
Samsung Galaxy S8/ S8 Plus
Samsung Galaxy S10e/ S10/ S10 Plus
Samsung Galaxy Tab S6 Lite
Sony Xperia 5
Sony Xperia 10 II
Sony Xperia XZ Premium
Mi 5
Mi 6
Mi 8 SE
Mi 9/ 9T/ 9T Pro
Mi 10/ 10 Lite/ 10T/ 10T Pro/ 10T Lite/ Mi 10i
Mi 11 Lite 4G/ 11X
Mi A1
Mi A2/ A2 Lite
Mi Mix 3
Mi Note 10/ 10 Lite
Mi Pad 4/ 4 Plus
Poco F1
Poco F2 Pro
Poco F3
Poco X2
Poco X3/ X3 Pro
Poco M2 Pro
Redmi 5
Redmi 5/ 5 Plus
Redmi 7
Redmi K20/ K20 Pro
Redmi K30/ K30 5G/ K30S/ 30 Pro
Redmi K40
Redmi Note 5/ 5 Pro
Redmi Note 6 Pro
Redmi Note 7/ 7S/ 7 Pro
Redmi Note 8/ 8T
Redmi Note 9S/ 9 Pro/ Pro 5G/ 9 Pro Max
Redmi 10 Lite
Redmi Note 9T/ 9 5G
Redmi Note 10
Redmi Note 10 Pro/ 10 Pro Max
Redmi S2
Redmi Y2
ZUK Z2 Plus
Note: Do not forget to take a backup of your important data before proceeding with the installation.