We know, right? The majority of the readers be like, first give us the Android 10 and later we can think of Android R or whatever it may be then. Amidst still plenty of the Android devices lying in the pipeline to receive their Android 10 update, Google has likely started to test its next iteration of the Android – Android 11, if the newly out Geekbench listing of a Pixel 4 running Android R is to believed by whatever means.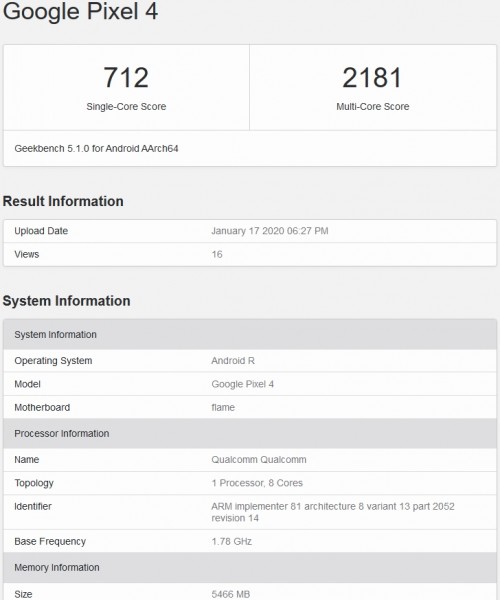 As you can see from the GeekBench listing, the Pixel 4 in question has 6GB of RAM and of course the chipset is Snapdragon 855. Alternatively, the Geekbench 5 scores are identical to what we could expect from a typical Pixel 4 with the same configuration and running Android 10. But, what triggers our enthusiasm is the unexpected presence of "Android R" in the database. This makes us believe it to be the first public appearance of Android R in its early stage.
Geekbench, as a Gimmick!
We all of us know that Geekbench can be easily spoofed by a simple build.prop edits. Here in this case as well it may be the same. But, given  Google has already started working on Android R, things like genuine Geekbench visit could be possible from time to time.
With the Android 10, Google focused on elevating security and privacy of the core Android. As its result, there were only few notable features such as the system wide dark mode. The Android R, on the contrary, plausibly be a feature enrichment update by which we could see new features getting added to the core Android. For instance, stock screen recorder, scroll/long screenshot support and the list goes on.
Android 11 won't be made available until the end of H1, 2020. Going with the tradition, Google should unveil the next Android on Google I/O 2020. And, the official moniker ought to be Android 11 while the Android R is just an internal codename for the same.