Google is rolling out a slew of new changes to the Google Play Store that will enhance the overall user experience for Android Phone users having multiple non-phone Android OS-based devices. The latest update eases app management across non-phone devices with ease of installation from the smartphone itself. Google even introduced dedicated homepages for non-phone devices for easy accessibility of compatible apps.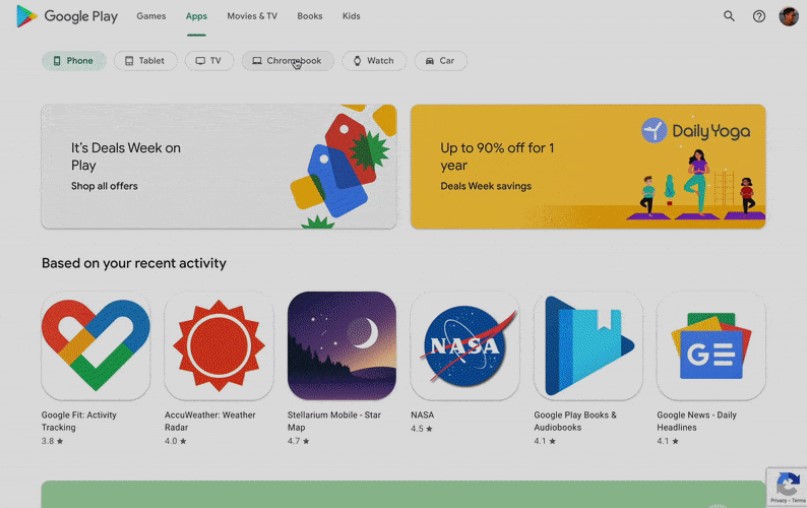 Must See: Google launches Chromecast with Google TV (HD) for just $29.99
There are now icons beside the App Name that indicates its compatibility across Phone, tablet, Chromebook, Google TV and WearOS Watches. Moreover, there's now the ability to filter apps according to the type of device, and even the relevant reviews are loaded. The dedicated homepages even help users to easily browse the featured apps and relevant apps for the specific device.
Apart from these major tweaks to help improve the usability of the Play Store on Phones, a set of similar features are also made available for the Play Store for the Web. All these new navigational improvements with device type, and showing useful information are now present on the Play Store for Web.
The ability to remotely install apps on other devices is a boon for the users who have more than a single device connected to your Same Google Account. It improves the integration among devices and will enhance usability.
Related: Google Chrome for Android to get a redesigned address bar
Google has been amending several Android-based services to offer ease of access to all users. Recently, Google Messages receives Transcribe feature, and the Google Chat's Smart Reply feature now offers support for Spanish, French and Portuguese languages. A recent Google Photos added a new Collage editor and even improved the Memories feature.