A couple of months back, Realme officially launched the Realme X3 SuperZoom smartphone in India and Europe. The device is powered by Qualcomm Snapdragon 855+ Chipset, and it features a 6.6-inch FHD+ punch-hole display with 1080 x 2400 pixels resolution. In the camera department, there's a quad rear camera and a 32-MP + 8-MP dual front camera for selfies and video calling.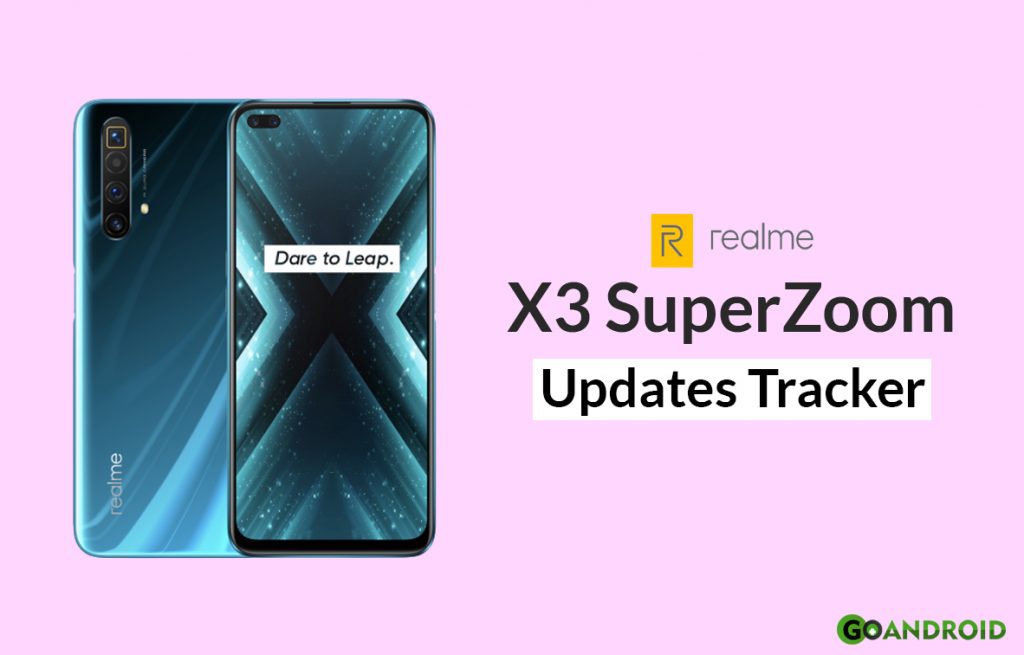 Realme X3 SuperZoom Updates Tracker
[September 19, 2022]: Realme X3 SuperZoom is receiving the Realme UI 3.0 based Android 12 update via the firmware RMX2085_11.F.05.  Realme notified that to install this update make sure your device is running this firmware: RMX2085_11.C.15 / RMX2085_11.C.14 / RMX2085_11.C.13. The official changelog is as follows:

【New design】

• The all-new design, which emphasizes a sense of space, deliver a simple, clean, and comfortable visual and interactive experience.

• Revamps the page layout based on the principle of reducing visual noise and spacing out elements, and prioritizes information with different colors to make key information stand out.

• Redesigns icons using new materials to give more depth and a greater sense of space and texture to the icons.

• Optimizes Quantum Animation Engine: Quantum Animation Engine 3.0 implements the concept of mass to make animations more lifelike, and optimizes more than 300 animations to bring a more natural user experience.

【Convenience & efficiency】

– Adds "Background stream": Apps in Background stream mode continue playing the audio of a video when you leave them or lock your phone.

• FlexDrop is renamed Flexible Windows and is optimized:

– Optimizes the method of switching floating windows between different sizes.

– You can now drag a file from My Files or a photo from the Photos app to a floating window.

【Security and privacy】

• Privacy-related functions including Privacy protection, Passwords, and Emergency call can now all be found in Phone Manager.

• Optimizes spam block rules: Adds a rule for blocking MMS messages.

【Performance】

• Adds Quick launch, a feature that detects the apps you use frequently and pre-loads them so you can open them quickly.

• Adds a chart to display your battery usage.

• Improves the responsiveness of turning on or off Wi-Fi, Bluetooth, Airplane mode.

【Games】

• In team fight scenes, games run more smoothly at a stable frame rate.

• Reduces the CPU load average and lowers the battery usage.

【Camera】

• You can now drag the zoom slider to zoom in or out smoothly when shooting a video using the rear camera.

【System】

• Optimizes the auto brightness algorithm to adapt screen brightness to more scenes for a comfortable screen reading experience.

【Accessibility】

• Optimizes accessibility:

– Adds visuals to text instructions for an intuitive understanding of accessibility functions.

– Optimizes categorization of functions by grouping them into vision, hearing, interactive actions, and general.

– TalkBack supports more system apps including Photos, Phone, Mail, and Calendar.
[March 30, 2022]: Realme X3 is getting the February & March 2022 Security Patches on the firmware version RMX2081_11_C.12. In addition, it resolves a couple of issues and optimizes the dual-mode audio function. Check out the official changelog below.
Changelog

Security

Integrates the February and March 2022 Android security patches

System

Improves system stability and performance.

Optimizes the Dual-mode audio function

Fixes an issue where an "Android" icon might appear on the Home screen after you install an app from Google Play.

Fixes an issue with device optimizing and virus scanning for "Phone Manager"
[January 20, 2022]: The Indian units of Realme X3 SuperZoom are receiving a new update with version RMX2085_11_C.11. The 685MB package carries the January 2022 security patch. Also, it improves system stability and performance.
Changelog
Security
Integrates the December 2021 and January 2022 Android security patches.
System
Improves system stability and performance.
[December 10, 2021]: The Realme X3 SuperZoom in India is receiving a new update. the build arrives on firmware versionRMX2085_11_C.10 and carries the December 2021 security patch.
[September 2, 2021]: Realme is rolling out July 2021 Security Patch for Realme X3 SuperZoom on firmware version RMX2081_11_C.08. The build weighs 740MB in size and it fixes some issues like the app while using mini window and lock screen password animation. Also, it addresses the problem of restart while using a hotspot and flashlight camera issue. Refer to the picture below to know more changes and additions.

[May 25, 2021]: The Realme X3 SuperZoom is getting a stable Android 11 update with Realme UI 2.0 skin. The software bears the build number RMX2181_11_C.06 that weighs 668MB in size. Realme has issued a detailed changelog for this update which follows here.
[April 14, 2021]: Realme X3 SuperZoom is receiving the Realme UI 2.0 beta update that brings many fixes along with it. The latest update comes with a build number RMX2081_11_C.05 and has an update size of 548MB. To know the details of this build, visit our dedicated article.
[March 16, 2021]: Realme has begun rolling out the March 2021 Security Patch update to the Realme X3 SuperZoom. Identified by the firmware version RMX2081_11_A.51 is currently rolling out only to Indian users. Alongside, it also brings other changes which you can read here.
[February 04, 2021]: Realme has started seeding out the January 2021 Security patch update of the Realme X3 SuperZoom. The update bears the RMX2081_11_A.49 or RMX2081PU_11_A.49 Fiware version, weighs nearly 400MB in size, and it's rolling out only to the Indian users. It brings fixes for the probabilistic issue that reconnecting the Bluetooth headset during a call caused the loud sound, the probabilistic issue that data migration failure, and the probabilistic issue that Recording displays abnormally when the recording file is deleted. It also optimizes the system performance and improved system stability.

[December 15, 2020]:

Realme X3 SuperZoom devices have started picking a new update with both the November and December 2020 Security patches. The update is rolling out on the RMX2081PU_11_A.47 Firmware version. As per the changelog, it adds the latest Security patches, new add-ons, optimizations, and fixes. The new add-ons include a new icon for phone calls with Bluetooth earphones.
The update brings fixes for the probabilistic screen flicker when editing the album, probabilistic crashing issue in alarm detail interface, probabilistic screen flicker when entering passwords entries in Dark mode, and when using Clone Phone in Dark Mode, the probabilistic issue that From Sunset to Sunrise status is out of sync issue.

[November 10, 2020]:

The October 2020 Security patch update has finally started hitting the Realme X3 smartphones. The update is bumping on the RMX2081PU_11.A.45 Firmware version and features with the latest Security patch, new add-ons, optimizations, and fixes. The new add-ons include a toggle for system icons in the Status bar, From Sunset to Sunrise toggle for eye comfort, and a toggle for display keyboard when entering the app drawer. The fixes include network connection loss in some scenarios, probabilistic screen flicker when entering the album, and more.
[September 27, 2020]:

Realme X3 SuperZoom has finally started receiving the Security Patch update for September 2020. The update is arriving as

RMX2081PU_11_A.43

 Firmware version, and it adds the latest Security patch, new features, and fixes for known/ reported issues. The update brings fixes for the probabilistic crashing issue, display issue of the battery icon, missing prompt window, etc.

[August 28, 2020]

: The August 2020 Security update is hitting all the Indian devices on the RMX2081PU_11.A.41 firmware version, and European users are receiving it on the RMX2081EU_11.A.40 build number.
According to the changelog, the update houses with August 2020 Patch, new add-ons, fixes, and several optimizations. The new add-ons include Super nighttime standby & auto-scroll feature, Power Saving Mode, Pull-down gesture, return button in the screenshot, automatic downloads option, Multi-user feature, and Quick guide feature in the battery, security, and other interfaces.
Interested users can download the Ozips and install the update manually. The Ozip files of the Indian and European users are as follows.
Downloads
Download Ozip (India)
Download Ozip (Europe)
[June 27, 2020]

: Realme X3 Superzoom has started receiving the June 2020 Security Patch update on the RMX2081_11_A.31 firmware version. The update is limited to Indian users, and it adds Realme Paysa and Realme Link app. To know more details about the update then 

click here

.
The update is seeding in batches, and it generally takes a week to hit all the units. To check the update manually, head to Settings>Software updates>Check for updates. Also, make sure to switch to a WiFi network before updating to avoid carrier data charges.