Last month, Samsung initiated the One UI 4.0 beta for the Galaxy S21 series. And now the program has extended to more devices including Galaxy S20, Galaxy Note 20, and the new Galaxy Z Foldables. While more smartphones are yet to join the beta group, a new post on the Samsung Members app reveals the timeline for the stable One UI 4.0 update.
It seems that Samsung accidentally posted an update detailing the stable One UI 4.0 rollout schedule for some of its devices. As per the notice pushed on the Samsung Members app, the Galaxy S21 series will be the first one to join the stable One UI 4.0 list (well, that was obvious). While next month is set for the other beta-occupied smartphones— Galaxy S20, Galaxy Note 20, Galaxy Z fold 3, and Galaxy Z Flip 3.
Heading to the next year, January 2022 will be packed with the older flagships. This includes the Galaxy S10 series, Galaxy Note 10 series, and the original Galaxy Z Fold and Galaxy Z Flip. Additionally, some mid-rangers like Galaxy A52s 5G, Galaxy A42 5G are also a part of the Jan update. The list goes up till July mentioning some of the handsets. You can check out the image below for precise information: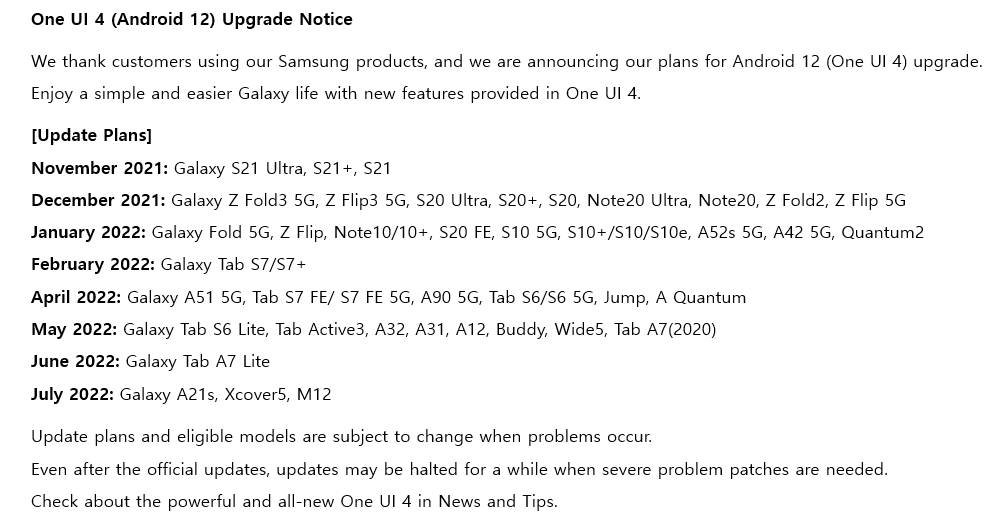 However, Samsung deleted this list soon after publishing, maybe the plan is not polished yet. Also, the list is missing several devices. Concluding, this timeline is not final and the plan may change for some smartphones. Additionally, we have crafted the list of eligible One UI 4.0 Samsung devices that you can read here.